EXHIBITIONS
This Brush for Hire: Norm Laich and Many Other Artists, ICA, Los Angeles. Group exhibition curated by Meg Cranston and John Baldessari honoring Norm Laich, Los Angeles artist, sign painter, and fabricator who has been instrumental in the production of artists' works over three decades. June 3 - September 2, 2018.
FRONT International: Cleveland Triennial for Contemporary Art, curated by Michelle Grabner, Cleveland, Ohio. July 14, 2018 - September 30, 2018. The Canvas City section of Front International will recreate on two downtown building exteriors the mural made by Julian Stanczak in 1973 for the Cleveland Area Arts Council's City Canvas program and Kay Rosen's DIVISIBILITY, the first time that work has been painted as an outdoor mural, at almost fifty feet high.
Do I Have To Draw You a Picture? Heong Gallery, Downing College, Cambridge, England, curated by Elisa Schaar, June 16, 2018 - October 7, 2018. Artists in the show also include Louise Bourgeois, Jasper Johns, Jenny Holzer, Glenn Ligon, Ed Ruscha, Grayson Perry, and Wolfgang Tillmans.
"Everything Has Been Done 2," Forde Geneva, curated by Roxane Bovet and Yoan Mudry, Geneva, Switzerland, September, 2018.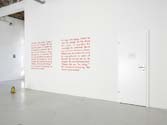 "Language As Medium," Fine Arts Center Gallery, University of Arkansas School of Art, curated by Marc Mitchell, October 22 - December 7, 2018.
"In Light Of…" Chicago Manual Style, Chicago, (with Ivan Navarro, Robert Chase Heishman, and Ansi), curated by Stephanie Cristello, September 28-November 4, 2018.
"Zombies: Pay Attention!", Aspen Art Museum, curated by Heidi Zuckerman, December 20, 2018 - May 5, 2019.
'She Persists, A Century of Women Artists in New York," The Gracie Mansion Conservancy, New York City, January 17, 2019 - January 31, 2020, curated by Jessica Bell Brown.
"Stonewall 50," Contemporary Art Museum Houston, an exhibition on the 5Oth anniversary of the Stonewall Riots. The artist will expand her work on paper, "Stone Wall," to a large-scale wall painting. Curated by Bill Arning, April 27-August 4, 2O19.
EDITIONS
Griffelkunst, Hamburg, Germany, will work with the artist to produce a portfolio of six prints titled "Leaning Strongly L". It will be presented in fall 2018.
Spudnik Press, Chicago, will publish a letterpress edition of the artist's diptych "Oh, Eau," an artwork first created in 1987 and shown up until now as a wall work. To be presented fall 2018.
Solo Impression Inc: Judith Solodkin, will publish a textile edition by the artist in 2018, her first work with fabric.
BOOKS
The Rhonda Lieberman Reader, Pep Talk 7, Los Angeles, April, 2018 includes "Painting By a Jewish Woman in Indiana" reprinted from Art + Text, 1993.
The Word Is Art, Michael Petry, Editor, Thames and Hudson, October, 2018.
50 Contemporary Women Artists, John Gosslee & Heather Zises, Editors, Foreword by Elizabeth Sackler, Schiffer Publishing, fall 2018.
Art in Chicago: A History from the Fire to Now, Maggie Taft and Robert Cozzolino, Editors, University of Chicago Press, 2018.
OTHER
"KavanaUGH," window project for Empirical Nonsense Gallery, 87, Rivington, New York City, fall, 2018.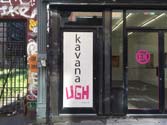 "KavanaUGH" is moving to The Protest Factory at Deitch Projects, 18 Wooster Street, New York City, October 31 - November 6, 2018, organized by Downtown For Democracy (D4D).
BETWEEN YOU, ME, AND THE SEA, the artist's new animated video, made with support from her 2017 John Simon Guggenheim Foundation Fellowship, is complete.
CURRENT PRESS
Kay Rosen On Her Mural DIVISIBILITY At Front Cleveland Triennial," Quiet Lunch, Heather Zises, July 20, 2018. "Rosen is known for creating graphically dramatic murals that treat letters as abstract shapes and as components of words with multiple meanings or potential interpretations…"
"Do I Have To Draw You a Picture?" - Heong Gallery Exhibition Review, Nora & Luna, Anna Ward, July 1, 2018.
"Down In Front," Scene & Herd, artforum.com, Zach Hatfield at the inaugural FRONT Triennial, July 21, 2018.
"This Brush For Hire: Norm Laich and Many Other Artists," Artforum, Previews, Sarah Lehrer-Graiwer, May 2018 (Print).
"This Brush For Hire: Norm Laich and Many Other Artists," Art and Cake, Jody Zellen, July 4, 2018.
"Kay Rosen: Alexander Gray Associates," Critic's Pick, Artforum International, Lauren O'Neill-Butler, March 9, 2018. "A deranged band of outlaws has taken over the US administration, and this is increasingly the case all over the world…" Download pdf
"In Other Words: At Alexander Gray Kay Rosen Hopes for Justice During a Turbulent Political Moment," ARTnews, Claire Selvin, March 29, 2018. Download pdf
"Kay Rosen at Alexander Gray," Artforum International, David Frankel, May, 2018. "That politics should have been on Kay Rosen's mind in preparing this show, "Stirring Wirds," is in tune with the tenor of her work for some decades past—politics are a habit of mind for her…" Download pdf
"Kay Rosen's Writing On the Wall," Hyperallergic, Louis Bury, April 7, 2018. "For her first exhibition at Alexander Gray Associates, Stirring Wirds, Kay Rosen directs her customary verbal and visual wit toward America's tense post-Trump political condition…" Download pdf
Kay Rosen currently works with Krakow Witkin Gallery, Lora Reynolds Gallery, Ingelby Gallery, Helga Maria Klosterfelde, and PPC Contemporary.